New Thread
---
---
Recently bumped threads
Firefly: New Gentoo-based distro aiming for FSDG compliance
Anonymous Mon Jul 27 13:51:18 EDT 2015 No.28
FireFly GNU+Linux operating system - a project aiming for compliance with the Free System Distribution Guidelines (GNU FSDG). FireFly is committed to provide only freedom-respecting free/libre software. Derived from Gentoo, FireFly can be automatically optimised and customised for just about any application or need with extreme performance, configurability and minimalism.
TO DO :
Pre Kernel deblobbing – to do away with the "deblob" USE flag and to provide the kernel without non-free firmware blobs..

Portage Cleaning – Checking for license notices, adding replacements like iceweasel, icedove, ath9k-htc-firmware, etc, and write scripts to generate FireFly's portage-libre.

Release systemd enabled stage3.

ISO Building

Initial Documentation – To assist with installation and migration.

---
Ututo BTFO
---
Recent Comments
---
The JavaScript Trap
Anonymous Sun Apr 19 21:10:45 EDT 2015
https://www.gnu.org/philosophy/javascript-trap.html
How much of a problem is non-free JavaScript? Is it on the same level as regular software? For privacy/security I guess not, since it's sandboxed. But freedom?
Do you use LibreJS? NoScript? A browser without JS support?
Are there still concerns even with free JS? Should it be avoided altogether?
Could blocking JS (at least via LibreJS) and being obscure be counterproductive as far as privacy is concerned?
What do you think of RMS' decision to start connecting directly to websites with Icecat and LibreJS?
https://trisquel.info/en/forum/icecat-secure-i-dont-need-tor-browser-anymore#comment-67108<
---
Recent Comments
---
Signed RMS Photo Print
Anonymous Mon Mar 28 02:17:45 GMT 2016 No.99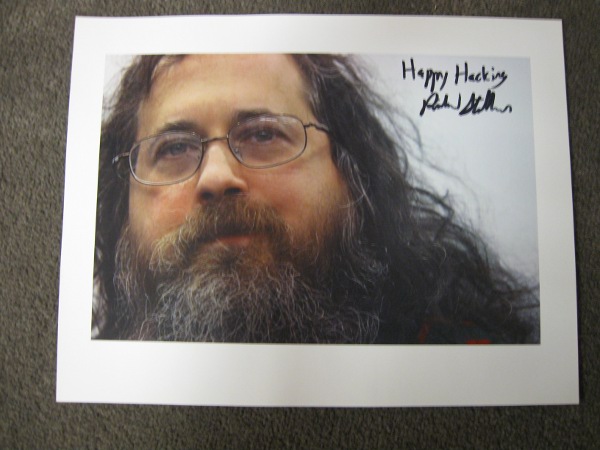 http://shop.fsf.org/product/signed-rms-photo-print/
Signed RMS Photo Print

Spruce up your office or home with our signed 8 1⁄2 by 11 inch photo print of Richard Stallman. These are individually hand-signed by RMS himself, and feature the "Happy Hacking" salutation. The prints are suitable for framing. We have a limited supply, so get yours today.
So when is the little FREE book coming out??
---
Recent Comments